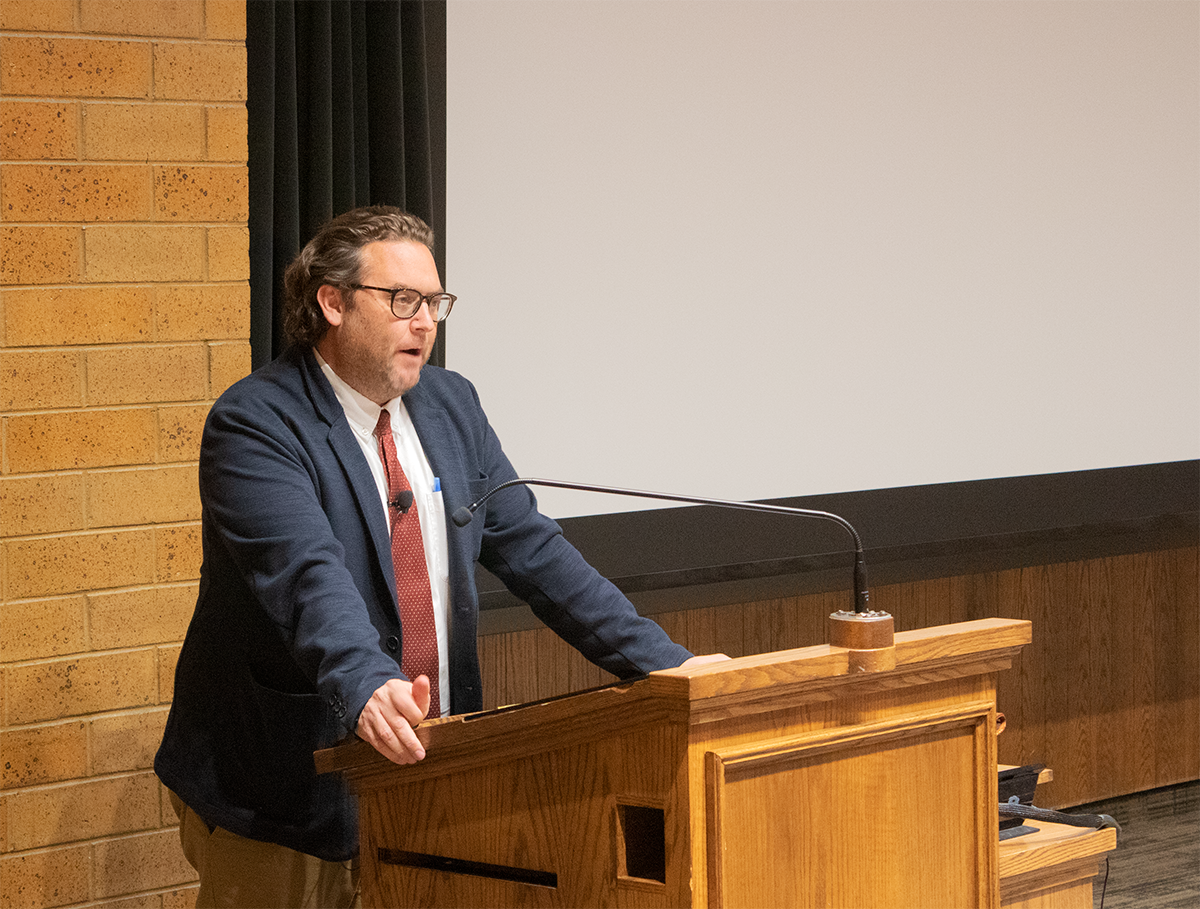 "No work of art has informed my worldview like Tolstoy's War & Peace," said Dr. Mark Purves, professor of Russian literature. Purves focused his lecture on the history and importance of Tolstoy's novel, which was adapted in 1966 by Sergey Bondarchuk into a massive seven-hour film. The International Cinema will be screen each of War & Peace's four chapters separately with one showing each week. This week War & Peace: Andrei Bolkonsky begins the epic journey. 
Tolstoy, Purves observed, was already popular before the serial release of War & Peace in 1865. In this work, he initially set out to write a history of Peter the Great, but he became so enamored with the rise and attack of Napoleon he scrapped the first half of the project. Even after having written for over a year (remember he was publishing serially), Tolstoy dropped the intended protagonist. The project evolved as he continued to write and it eventually covered fifteen years of Russian history. To do so, Tolstoy used his fame to gain access to archives where he unearthed much of the forgotten history of the period. 
Initially, his novel was not well received in the West as it did not fit neatly into any existing genre. In Russian literary circles, however, it was immediately heralded as a classic for precisely the same reason. Purves suggested that Tolstoy's genius was in his focused descriptions of seemingly small, personal moments. "For Tolstoy," Purves said, "humanity doesn't exist. There are only millions of [individual] human beings possessed of desires and illusions which are at war with each other and within themselves." Rather than focusing on the tsar's presence at a ball, for instance, the novel and film follow a young teenager, Natasha Rostova, as she first experiences the feelings of love. Natasha has little to do with Russia's fight against the invading French dictator, but Tolstoy is more interested in the personal than the great movements of history.
This emphasis in the immediate rather than the grand leads to a sense of importance in the here-and-now over and against what Tolstoy called "The tyranny of elsewhere." In cinematic terms, Tolstoy wants his readers to rack their temporal and chronological focus to the here and now. "God must love the little moments," one critic wrote, "because he created so many of them."
It is clear from the film adaptation's runtime alone that it adheres quite closely to Tolstoy's novel. There are several different adaptations, but Sergey Bondarchuk's version is not only the most complete but by far the most epic in scale. The representation of Napoleon's invasion in the film is bound to amaze any film viewer, but what is far more impressive is Bondarchuk's further emphasis of Tolstoy's interest in the personal. Bondarchuk, of course, emphasizes certain aspects of the novel in response to his own interests and political climate. This is particularly apparent in the film's emphatic condemnation of hero worship, but Purves ended by saying that Bondarchuk's interpretation, "is as relevant to contemporary audiences as it was to those watching its premiere in 1966."