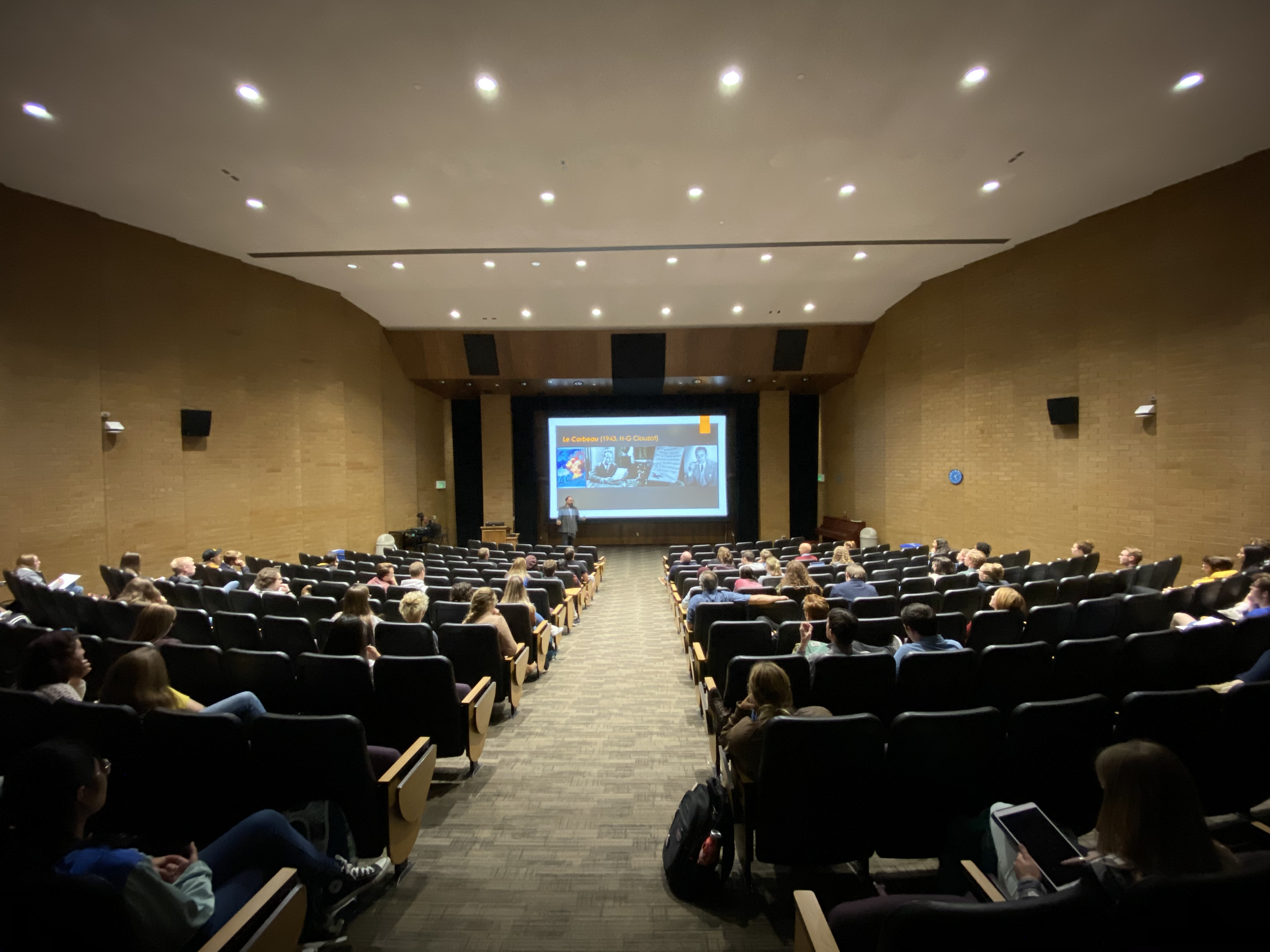 "Atmosphere, atmosphere, atmosphere," it's the key to understanding the style of Julien Duvivier, the director of Panique (1946) according to Dr. Hudson of the Department of French and Italian. Duvivier was an early proponent of the poetic realism in pre-occupation French Cinema. Known for its dense, murky, fatalistic fogs that cover the lives of its characters, poetic realism oozed a sense of foreboding as it depicted an elite, bourgeois society was on the brink of collapse. Duvivier made many famous films in this style including Pépé le Moko (1937) and They Were Five (1936), both of which starred a frequent face at the IC, the unequaled Jean Gabin. 
At the outbreak of World War II, Duvivier fled France for the United States although films continued to be made in France during the occupation. The major French film studio, Continental Films, was personally overseen by Reich Propaganda Minister, Joseph Goebbels. These films were generally meant to be lighthearted affairs that were meant to do anything except criticize the ruling Nazi party. One film during the period that went against those dictates—and heavily mirrors the themes in Panique—was Le Corbeau (1943) by Henri-Georges Clouzot. In Le Corbeau, a small French town is thrown into a frenzy by a series of poison pen letters. An atmosphere of surveillance, distrust, and fear lies right beneath the surface. 
After the war, Duvivier decided to return to make films in France, but the France he returned to while radically different in some ways was still clutching to many of its past problems. Charles de Gaulle, chair of the provisional government at the time, called for épuration (a purge or purification) in France. All collaborators or those suspected of collaboration during the occupation were made to subjected to extreme cruelty including public humiliations of forced shavings or public nudity, imprisonment, and even death. One easy way to find a Nazi sympathizer they believed was to accuse anyone who were know to have held anti-semitic sentiments before the war. Unfortunately, this included almost a fifth of the population. 
The atmosphere of post-war France, the one director Duvivier returned to, was again a claustrophobic, distrusting fog. This is where Panique takes place. The film is set in Paris and the night before a carnival is to begin, a woman's body is found. Very quickly, the veneer of neighborly friendless is questioned and the main character Monsieur Hire, played by "the man of a thousand faces," Michel Simon, is suspected by all his neighbors. 
Dr. Hudson also suggested looking for underlying currents of retained anti-semitism in the film as well as the film's use of tight framing, sharp angles, and low-key noir-esque lighting. Also look for how his accusers turn staples of French culture into suspicious behavior so quickly. The film ends with the lines, "Love of Mankind is the Beauty of the World," which could be read as trite, according to Dr. Hudson, but he hoped we would see it as more of a positive wish to finish this dark film.