Stephanie Spray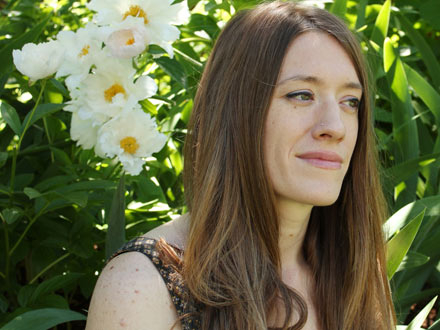 Her Bio from her site https://www.stephaniespray.com/about:
"I am a filmmaker, phonographer, and anthropologist whose work explores and exploits the poetics of everyday life. As Assistant Professor in the Department of Critical Media Practices at the University of Colorado Boulder, I teach practice-based courses in ethnographically inflected media-making, documentary, and media aesthetics. I have a PhD in Social Anthropology with Media from Harvard University, with a secondary field in Critical Media Practice; an MA in Religion from Harvard Divinity School, with a focus on the religions of South Asia; and a BA in the Study of Religion from Smith College.
​
My work is in the permanent collection of the Museum of Modern Art in New York, and has been screened nationally and internationally at the New York Film Festival, Toronto International Film Festival, Locarno International Film Festival, The Whitney Biennial, MoMA, the National Gallery, Vancouver International Film Festival, the Viennale, CPH:DOX, Rotterdam, AFI Fest, DocLisboa, DocAviv, Hamburg, Courtisane, BOZAR, Buenas Aires Film Festival, Anthology Film Archives, True/False, Maryland Film Festival, the Harvard Film Archive, Northwest Film Forum, Ann Arbor, DocPoint, Sehsüchte International Film Festival, the Himalayan Film Festival, The International Ethnographic Film Festival of Quebec, and Visual Anthropology Film Festival, among others. My work has been awarded numerous fellowships and grants, such as The Princess Grace Foundation's Special Grant Project Award (2013–2014), The Princess Grace Graduate Film Scholarship (2012–2013), a Climber-Scientist Small Grant Award from USAID (2013), Fulbright-Hays DDRA (2011), SSRC-IDRF (2010), Fulbright-IIE (2001–2002), and Film Study Center Fellowships at Harvard University (2015, 2014, 2013, 2012, 2011, 2010, 2009, 2008).
In 1999, I began studying music, religion and languages in Nepal, and thereafter spent copious amounts of time practicing the art of "wandering" (dulna jāne) with a community of itinerant musicians called the Gandharva (also known as the Gāine). With this community, I made several film and video works in Nepal, including Kāle and Kāle (2007), Monsoon-Reflections (2008), Untitled (bed) (2009), As Long as There's Breath (2009), Untitled (2010) and MANAKAMANA (with Pacho Velez, 2013), which won a Golden Leopard at the Locarno Film Festival, among other awards. These films are distributed by Cinema Guild in the United States, with distribution of select films by Films We Like (Canada, theatrical), Dog Woof (UK, theatrical), Arsenal (Germany, theatrical), Gnome (Japan, theatrical), DocAlliance (Europe, online), LaOla Cine (Mexico, theatrical), and Sundance Channel (Netherlands, online). My sound projects Blue Sky, White River and Dead Ice​ were exhibited at the Whitney Biennial, the Viennale, and installed at the 2011 United Nations Climate Change Conference (COP17) in Durban.
The past few years I have been making work related to climate change, the environment, and scientific research. I am currently in post-production for a feature-length film called The Immortals, which I shot over ten weeks at sea aboard the JOIDES Resolution, a scientific drilling ship, with scientists and crew members for Expedition 363, in the Western Pacific Warm Pool. This film was supported by the International Ocean Discovery Program with NSF funding and has an expected release of summer 2018. I am also editing a short film entitled Bungadyo, a film shot on 16mm film in Bungamati, Nepal two months after the earthquake of 2015, and have a new film in preproduction in Chile."
Related Movies: